The path into filmmaking is rarely a straightforward career trajectory, especially as a woman from a small town in regional Australia. There's seldom a film school in sight, and access to the industry can be extremely limited. Gabrielle Pearson of Majella Productions, however, overcame these hurdles and now strives to create positive change in the film industry.

Majella is a production house that actively encourages diversity on and off the screen, by seeking out talent that is often overlooked by the industry, focusing on promoting female talent and other minority groups that are underrepresented in film production.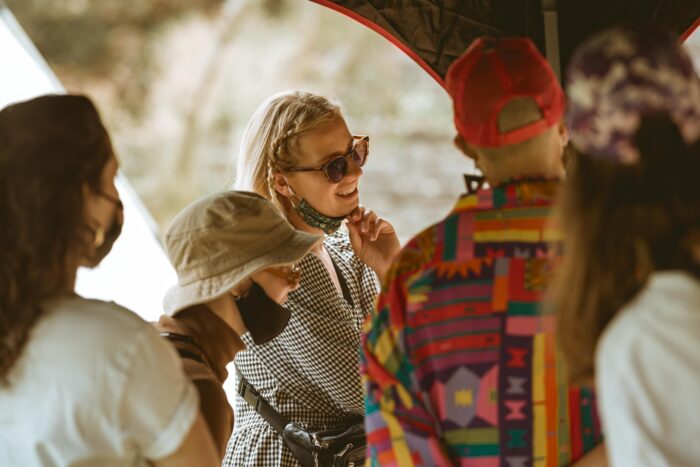 Hailing from Casterton in Victoria, a historic rural service town on the banks of Glenelg River, Gabrielle Pearson's first foray into film began when she moved to Melbourne in 2014 to study acting. Due to a lack of female representation across production roles at the time, Pearson initially believed the only way to be a part of the film industry was to become an actress.

Pearson points out that in the previous decades of film, the celebrated directors were always the same male names: Spielberg, Cameron, Tarantino, Hitchcock and Lucas (to pick the low-hanging fruit). A quick google search of 'most influential film directors' returns overwhelmingly male results, yet a search of 'most influential actors of all time' returns a slightly more gender-balanced list.
It was at acting school where Pearson first met Christie Fanning, the previous co-founder of Majella – and discovered they shared similar values and aspirations for their work (with both of the women soon realising their interests lay more on the other side of the camera). But it wasn't until some years later, with Pearson in London and Fanning back in Australia, that the two reconnected and wound up working together.
"I had been writing a play about my experiences in London – it was really weird because Christie and I hadn't spoken for about a year – but the only person I trusted to read the script was Christie, so I reached out to her and asked her to read it," says Pearson. "Then she started sending me notes, we went back and forth for a bit and eventually I mentioned I was moving back to Melbourne and suggested we try to put this play on."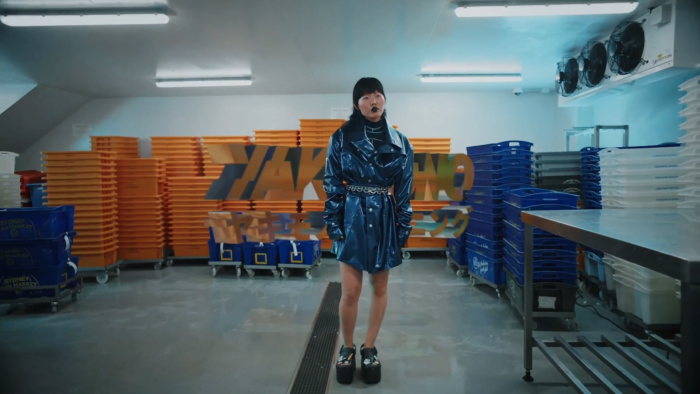 Pearson laughs as she recounts their bold confidence as two twenty-somethings getting their first-ever play put on at the Melbourne Theatre Company – no small feat for two young women not long out of acting school. "People were asking, 'Who the hell are these guys?' So we just said we were a production company, we are Majella," Pearson says, still laughing at their audaciousness. 'We just picked Majella because we needed a name. It's my middle name, and we just needed something to chuck on emails for funding and other business stuff, so that was the start … and it just never stopped."
After putting on their first theatre production and doing almost all the heavy lifting themselves – from building sets to stage managing, scriptwriting and producing – it proved Pearson and Fanning could evolve into any role that was required, while gaining invaluable production experience in a very hands-on way. After the success of their first production, the pair had gained confidence in their abilities and started saying yes to all types of roles in different productions, working as assistant directors, production assistants… basically anything that would further their experience, even if it meant sometimes bluffing their way into the role.
"We have definitely lost work due to us being a predominantly female-empowering production company, absolutely"
"I remember being on a set and getting ready to film with the DP [director of photography] and we were all kind of just standing there in silence," Pearson says. "I turned to Amy the DP and asked, 'What are all waiting on?' And she just replied, 'I'm waiting on you to say turnover.' So I just start saying, 'Ok turnover, turnover' before googling 'What does turnover mean?'" Pearson laughs.
Pearson goes on to explain that these early projects offered the chance to meet great female talent who would become an important network as the years went on. This initially small network of women in production would often put each other's names forward for jobs and collectively, their careers began to gain momentum. All the while, Majella was making a name for itself – no longer just a token email signature, but a fully-fledged production team that fostered female talent and endeavoured to spread opportunities to the underrepresented.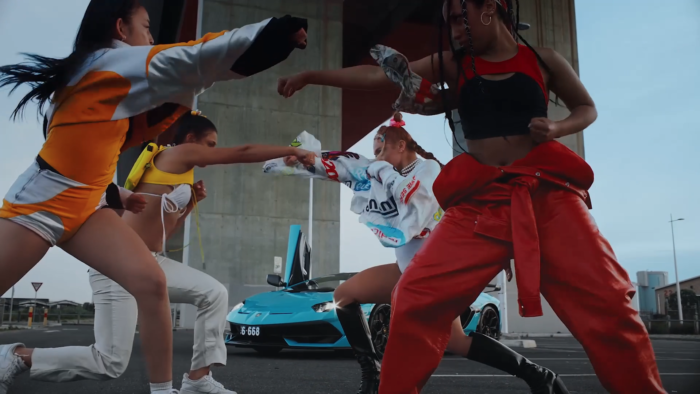 Pearson reminisces over how much she learned from doing multiple roles on sets with minimal money in their early days; from catering to directing and hiring the talent. Majella was built on the hard work and drive of self-taught young women who, without fail, kept pushing forward, regardless of tight budgets or skillsets. After all, the best producers always end up being those that understand each role on set, and what better way to understand those roles than by actually working in those positions?
"We don't compromise on our values and it has definitely ruffled feathers, but [we] will lose work to make sure we are doing what we set out to do."
Majella began to grow as a production company and started taking on larger projects with bigger budgets, yet they continued to experience problematic situations with men in the industry on set, often belittled by the 'old guard' or receiving sexually explicit texts from male crew. Pearson spoke with many other female crew who confirmed that there were male crew members with reputations for sexist behaviour and a history of sexual harassment, yet these men still remained regularly employed in the industry. These early encounters in their career only motivated Majella to work harder and push for change, to empower women in the industry and cement their values and mission statement.
"We have worked with many great men and love those that we do work with, but we think prioritising female, trans, gender non-conforming and culturally diverse creatives – essentially anyone who has felt silenced in the field before – to have a platform to feel creative and embraced, empowered and loved, is important" Pearson explains. "Our beliefs on this became stronger and stronger the more we educated ourselves on it [the state of the industry]." 
One major hurdle that all production companies face at some point is when the balance of why you started comes up against the need to pay the rent. When faced with this challenge, Majella opted to stay firm on its values as the business grew.
"We have definitely lost work due to us being a predominantly female-empowering production company, absolutely," says Pearson. "We don't compromise on our values and it has definitely ruffled feathers, but we can't just present ourselves as one thing and then be doing the total opposite behind the scenes. You know, to have one token minority on screen but then you've got this all-white male crew behind the scenes, you just see that so much. We just don't want to compromise and will lose work to make sure we are doing what we set out to do."
"We would love to be able to walk into this epic office and see women left, right and centre, gender non-conforming, people of colour, and they are all members of authority."
When looking through Majella's portfolio, it's incredible to see the diversity they portray on screen. When asked how they discover such a broad spectrum of talent, they explain that you "simply need to dig". Pearson tells me how tools like social media are amazing for just "going down the rabbit hole" and finding talent that may not have representation elsewhere. Through connecting with these diverse talent pools and their personal networks, it creates a snowball effect that leads to amazing people. It also requires production companies such as Majella to take chances and offer opportunities to crew and talent that may not have the most comprehensive resume, however it provides a chance to foster new careers and build relationships. Many of the crew that work on Pearson's projects have started out their careers with Majella, growing their skillsets thanks to the opportunities they provide on set.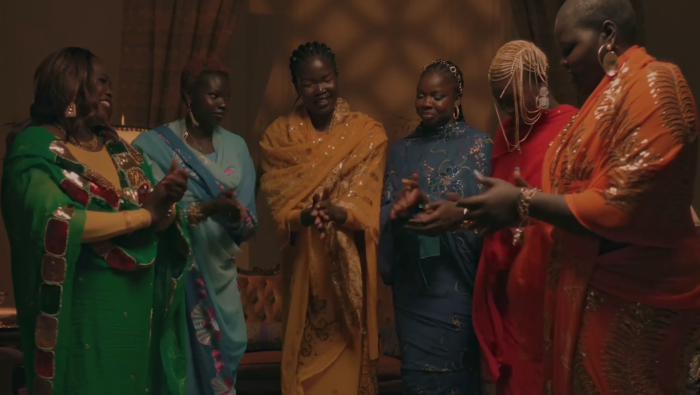 Pearson's advice for production hopefuls is something that many know, but not many do: show you are eager and motivated by creating work for yourself and for others, often for little to no money, so that you can show your skills and passion. "Make your own stuff and get it out there," she says. "Social media works in your favour, plug yourself as much as possible and people will notice. The internet is amazing and it offers a really great platform to put yourself out there and show people what you can do. It can be 99 no's, but that one yes is all you need."
While Fanning has since left Majella to pursue goals overseas, Majella has plans to set up an office in Los Angeles while still keeping a home base in Australia, with the ultimate goal being to continue to grow as both a production company and a pillar for diversity within the film industry. 
"We would love to be able to walk into this epic office and see women left, right and centre, gender non-conforming, people of colour, and they are all members of authority," says Pearson. "They are all calling the shots and we have all these beautiful people feeling safe and nurtured in a company where you feel you can be creative. We always said our slogan should be, 'We are a female-empowering production company that one day won't have to say we are a female-empowered production company,'" Pearson signs off, with defiant optimism about the future for Majella, but also for the film production industry as a whole.
By Tim Boreham.